Imposters 99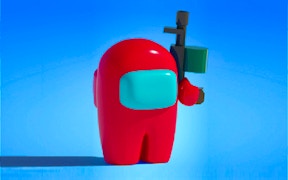 Imposters 99
Step into the thrilling, action-packed universe of Imposters 99, a not-to-be-missed addition to the ever-expanding field of battle games. This heart-stopping adventure single-handedly redefines the genre, successfully blending elements of gun games, escape games, and survival games.
In the gripping world of Imposters 99, you face an onslaught from a relentless clone army poised to annihilate you. The stakes couldn't be higher. To survive, you'll need to be faster, stronger, not just meet but exceed your adversaries at every turn. But that's just part of the brilliance of this game - it's about more than mere survival.
Your weapon is your lifeline. Take hold of your destiny and arm yourself with an arsenal found across different levels – each unique gun is a game-changer in its own right. It's the perfect escape for lovers of gun games; as you navigate through levels, arming yourself with powerful weapons to stand your ground against formidable enemies.
But Imposters 99 doesn't stop there! It takes the immersive gameplay up another notch with an innovative feature where only upon eliminating all foes will you discover the elusive exit portal. It's survival meets strategy, making it one of the most unique escape games.
Last but not least, get ready for an unexpected twist: adorable pets that come to aid in combat! Purchase these helpful companions in-store and watch as they tip the scales in your favor.
In conclusion, Imposters 99 runs a gauntlet of emotions that leaves you panting for more spectacular shootouts and nail-biting escapes. Run, shoot, conquer – make victory yours in one of 2022's most sensational survival games. This adrenaline-fueled extravaganza envelops you into a mesmerizing world where surviving is just as fun as thrashing enemies!
What are the best online games?