Idle Pet Business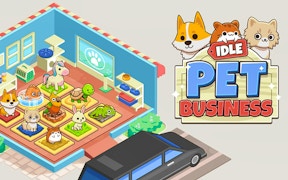 Idle Pet Business
Get ready to unleash your entrepreneurial spirit in the adorable and addictive action game, Idle Pet Business. Touted as one of the most captivating entries in the arena of animal games, this lively mash-up of idle games, clicker games, and tycoon games offers an immersive, paw-licking good time on your mobile device.
The basic premise is straightforward - you start with a modest pet shop, attend to your fluffy patrons, and make coins. But the true magic of Idle Pet Business lies in its deeper mechanics. The sheer joy when you unlock unusual pets to increase your coin production epitomizes the thrill of discovery that accompanies top-tier management games. Upgrading pets to enhance yield not only contributes to the feeling of progression but also adds layers of strategy that tap games usually lack.
This isn't a game that demands constant attention - it's designed for idle enjoyment. Pop in, check on your furry empire, make a few upgrades, and leave it to generate wealth overnight. The ingenious offline-earning mechanic ensures that you're racking up coffers even when not actively playing, making it a stand-out among other money games.
Idle Pet Business is an enchanting mix of endearing animals, casual gameplay features, and complex business strategies that will keep you coming back for more. This pet-themed corporation sim can transform even the casual player into a pet shop tycoon extraordinaire.
In summary? If you're looking to lose yourself in the furry frivolity of handling exotic pets while building a business empire from scratch – all laid out in a charmingly detailed environment – then Idle Pet Business is your perfect retreat. Come get your paws wet on this exceptional venture into the world of animal management games.
What are the best online games?