Idle Arks: Sail and Build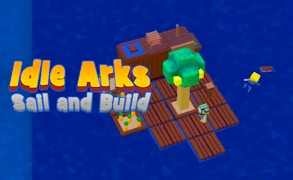 Idle Arks: Sail and Build
As a fervent enthusiast of action, clicker games, tap games, idle games, and building games, I was instantly drawn to the mesmerizing world of Idle Arks: Sail and Build.
This engrossing casual game teleports you directly into a Biblical account of Noah's Ark, offering you a unique opportunity to step into Noah's shoes and experience an extraordinary adventure. The game is fundamentally based on resource management — the raw material being the woods. As one can anticipate, it's no easy task to build an ark from scratch.
The beauty of this game lies in its simplicity; all you need to do is click, tap, or swipe, hence justifying its tags as one of the top notch clicker games and tap games. The game smoothly transcends from swift interaction to a relaxed idle state where your helpers, comprising humans and animals alike, continue working on your behalf.
A standout feature is the exploration element. Every expedition brings you closer to an unseen facet of this enchanting world. It instills a robust sense of curiosity about where the ark will lead you next, which keeps the excitement at peak.
In conclusion, Idle Arks: Sail and Build encapsulates impressive elements of action, idle gameplay and building mechanics that will surely captivate fans of such genres. This marries well with its competent clicker game design making it an ultimate leisurely pastime or a challenging test for strategic minds.
If you're seeking an adventurous journey mixed with fun building tasks and idle gaming mechanics in your leisure time, look no further than this magnificent action-packed game. Prepare your tools! It's time to build your own ark.
What are the best online games?