Idle Ants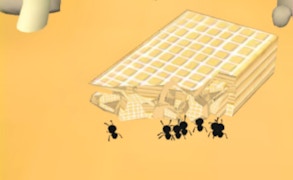 Idle Ants
Feast your senses on the ultimate amalgamation of animal games, clicker games, and idle games in the audaciously adventurous game, the Idle Ants. As a player, you are granted dominion over a thriving ant colony, commanding your subjects as they take over the world from below.
The captivating narrative of Idle Ants catapults you into an undervalued world, proving that ants are indeed the true masters of an organized and structured life underground. Not just confined to devouring bugs or eggs, these relentless scavengers will consume anything within their reach—even airplanes!
The power is in your hands to click or tap them into action, nurturing them from humble larvae to ferocious warrior ants. Every tap sees your colony grow stronger and wealthier; quite literally from an ant's perspective! It's a thrilling addition to our growing list of animal games where you play as God to these miniature creatures.
Idle Ants is an exhilarating ode to the world of clicker games, turning every tap into a victory march. The game also stays true to its roots as an idle game, making money even when you're offline! So whether you are there commanding your army or away planning their next big hunt, your ants never stop earning for you.
In conclusion, Idle Ants is an enthralling mix of cute yet ruthless ants working towards world domination—a perfect blend of ant-themed animal games with the addictiveness of clicker and idle genres. So if you enjoy animal-based strategies or tap-to-play mechanics wrapped in one package, then don't bother looking elsewhere!
What are the best online games?