Idle Airline Tycoon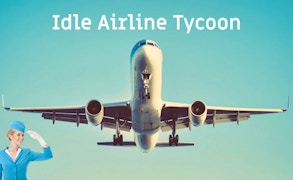 Idle Airline Tycoon
Step into the thrilling world of aviation with Idle Airline Tycoon, a riveting blend of action and strategy that keeps gamers on their toes. This addictive game falls under a wide range of tags, including airplane games, tycoon games, and, surprisingly, even idle games. If you love management and simulator-style gameplay, Idle Airline Tycoon transports you to the heart of the action.
Explore over 50+ cities scattered across different continents, all waiting to be linked with your growing airline empire. Strategy is key in this management game as you choose between 25 unique airplanes for your routes. No two games are ever the same, making Idle Airline Tycoon an awesome choice for fans of re-playable simulator games.
What sets this game apart from other tycoon games, though, is its idle element. Even when offline, your hard work continues to pay off as you earn money in your sleep. For those looking for more than just casual play, Idle Airline Tycoon offers an optional prestige system to further advance your career. It's not every day that you come across airplane-based money games that offer such depth of gameplay.
A well-executed clicker mechanism adds an extra layer of fun to this dynamic mix of genres. As one of the best tap games, Idle Airline Tycoon requires sharp reflexes and a keen eye—perfect for gamers looking for more action-packed tycoon experiences.
Crafted with stunning details and rich game mechanics, Idle Airline Tycoon offers a unique fusion of idle game elements with traditional tycoon gameplay. With its captivating concept and satisfying progression system, it's proven itself as a leader in both the airplane and management games genres.
If you're seeking a winning mix of action-packed gameplay and strategic planning within the exciting world of aviation – look no further than Idle Airline Tycoon.
What are the best online games?