Huggy Wuggy Run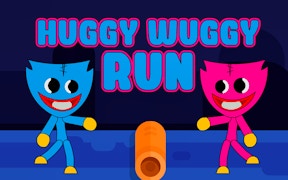 Huggy Wuggy Run
Description
In Huggy Wuggy Run, you'll get to assist Hagi Wagi and Kissi Misi in their thrilling quest to reach the finish line. This action-packed game demands you to maneuver both characters through challenging terrains, encounter nerve-wracking obstacles, and evade terrifying monsters. The game's graphics set a thrilling atmosphere that intensifies the survival mission. Are you ready to take on this perilous adventure?
How to play
To play, use your keyboard arrows or swipe gestures on a touchscreen interface for moving Hagi Wagi and Kissi Misi. Dodge obstacles by jumping over or sliding under them. Collect all the power-ups and avoid monsters by skillfully using your speed boosts or invincibility shields. The level progresses as you continue to survive and advance through the increasing challenges.
Tips and Tricks
Mastery of controls is key; practice running, jumping, and sliding until it becomes second nature. Watch out for patterns in monster movements to anticipate their actions. Remember: power-ups are crucial – prioritize collecting them to enhance your survival chances.
Features
Captivating graphics: Creates an atmospheric gameplay environment.
Innovative controls: Responsive and intuitive for seamless navigation.
In-game power-ups: Provides advantages like speed boost or invincibility shields.
Diverse levels: Increases in complexity for long-lasting gameplay enjoyment.
What are the best online games?