Hotel Tycoon Empire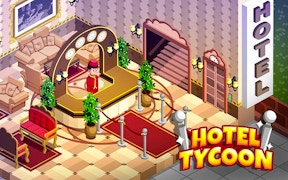 Hotel Tycoon Empire
Welcome to the vividly immersive world of Hotel Tycoon Empire, a game that excellently combines the genres of clicker games, idle games, management games, tycoon games, and restaurant games. This engaging action game invites you to step into the polished shoes of a hotel chain manager with one compelling mission: to transform your small-scale motel chain into a grand hotel business empire.
As you dive deeper into this addictive game, you'll immerse yourself in an intricate world filled with strategic financial decisions and incremental growth. Every click brings you closer to your dream of constructing a towering empire in this phenomenal fusion of money games and building games.
In Hotel Tycoon Empire, every decision matters. You're not just passively clicking and waiting for outcomes. Instead, you become engrossed in managing resources, upgrading infrastructure, and unlocking opportunities—the hallmarks of great management games. It's not just about earning money; it's about smart investment strategies that propel your business forward.
This isn't only a game; it's an exquisite business simulation experience. As you navigate the fast-paced world of hospitality, you'll learn the nuances of running a successful hotel chain. From staffing choices to pricing decisions within your restaurant arm—this is where the essence of restaurant games comes into play—every move is crucial.
Intrigued? You should be! With its addictive gameplay, Hotel Tycoon Empire stands out as one of the best idle clicker, or if we might say so ourselves: one of the best tycoon games out there. It offers an unforgettable journey into entrepreneurship that won't just keep you entertained—it'll leave you richer with valuable insights about running a successful business empire!
What are the best online games?