Hot Dog Bush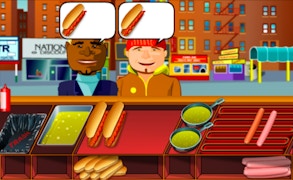 Hot Dog Bush
Enter the bustling, culinary world of "Hot Dog Bush", a delightful blend of strategy and management gaming, perfect for anyone who adores cooking games or restaurant games. This game offers an entertaining twist on the conventional tycoon games, placing you in the shoes of none other than former President George W. Bush as he ventures into the fast-paced realm of hot dog vending.
In this game, timing and precision are key as you strive to fulfill a diverse array of customer orders. It's no simple task - overcook those hot dogs, and they're destined for the trash! Each perfectly-prepared hot dog is a testament to your cooking abilities, contributing towards your daily target.
A truly engaging experience, Hot Dog Bush demands your attention as customers grow more impatient over time. Ensuring quick service to garner better tips adds a layer of thrilling pressure that draws players in. The longer they wait, the likelier they are to leave unsatisfied – simply adding fuel to your motivated fire.
Your entrepreneurial journey starts in the Bronx but doesn't stop there. Show your prowess in managing a top-notch hotdog stand and get propelled all the way up to Wall Street! As you progress through this gauntlet, new menus become available, adding variety and further enhancing the gaming experience.
In conclusion, Hot Dog Bush brilliantly combines elements from various genres like strategy, tycoon, cooking, and restaurant games. It presents an enticing challenge for those looking to test their managerial skills and speed under pressure. Can you run the best hotdog stand in town?
What are the best online games?