Hit Master 3D: Knife Assassin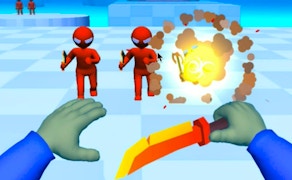 Hit Master 3D: Knife Assassin
Yearning for an escapade into the silent but deadly world of assassins? Look no further than the adrenaline-pumping spectacle that is Hit Master 3D: Knife Assassin. This killer concoction of ninja games, sword games, and sniper games will satisfy your hunger for action-packed stealth warfare.
This game is more than just an average slasher; it's a test of your strategic prowess and attention to detail. You are not merely a pawn in the landscape of destruction, you're a vital player, plotting and executing lethal attacks with precision. Every move in Hit Master 3D: Knife Assassin is determined by your choices, making every victory feel truly earned.
The control dynamics are so intuitive that you'll find yourself immersed in the role of an assassin. Each enemy represents a unique challenge to overcome. Whether they're packing heat or hiding in the shadows, your mission is clear - eliminate each target without missing a single one.
Dive headfirst into this ruthless world where survival requires vigilance, intelligence and an unerring aim. The biggest hook of Hit Master 3D: Knife Assassin is its engaging gameplay which is varied enough to keep you glued to its arena for hours on end. Despite its minimalistic graphics, the game doesn't skimp on delivering high-level excitement and intrigue paired with the thrill of mastering your own ninja skills.
In conclusion, if you fancy yourself a fan of ninja games, meticulously strategic swordplay, or stealthy sniper action, then Hit Master 3D: Knife Assassin might just become your new addiction. Wield your weapon wisely and watch as the tables turn in your favor in this maximally engaging interactive experience.
What are the best online games?