Hero Tower Wars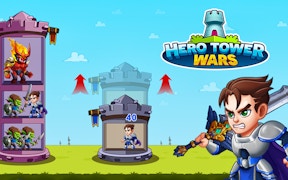 Hero Tower Wars
Deep in the rich vein of battle games, set adrift in a sea of dragon games, and standing tall among the towering titans of knight games and monster games, lies a gem that truly sparkles - Hero Tower Wars - Merge Puzzle. This electrifying amalgamation of genres leads you on an extraordinary gaming journey, unlike anything you've experienced before.
Taking the classic elements of arcade gameplay, blending them flawlessly with strategic battle planning, and serving it all upon a bedrock of brain-tickling puzzles, Hero Tower Wars pushes the boundaries of what you thought possible in a game. It's like witnessing a fire-breathing dragon locked in combat with a valiant knight – breathtaking, exhilarating, and wildly innovative.
But it isn't just the merging mechanics that make this game stand apart. It's the way these mechanics are interwoven with an intricate tapestry of puzzle-based adventure. Each level feels unique yet connected, creating an immersion so deep you're likely to forget you're playing a game at all.
This isn't just another title in the vast landscape of knight or dragon games. No, Hero Tower Wars demands your attention. It grabs you by the gauntlet and plunges you headlong into a world where every decision matters, every tower placement can swing the tide of battle.
If you love action-packed puzzle games with a heavy dash of strategy, Hero Tower Wars - Merge Puzzle is something you cannot afford to miss. Harness your inner knight, gather your wits about you like a legendary dragon tamer, and dive into the richly rewarding world this game offers. Prepare yourself for a compelling gaming experience that tests both your mind and might!
What are the best online games?