Help the Hero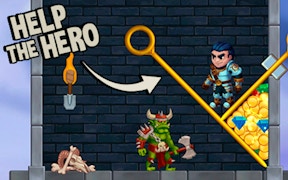 Help the Hero
Step into a world of knights, monsters, and brain teasers in Help the Hero, an exhilarating adventure that cleverly combines elements of knight games and brain games. This game is not your average jewel game. It's a physics puzzle that challenges you to think on your feet, testing your strategic skills and mental agility.
Within the heart of Help the Hero lies a simple yet challenging gameplay mechanism. Armed with only your wits, you will need to solve various tasks to ensure the survival of the hero. Pulling out flaps in correct order is crucial, adding an unexpected brain game twist to traditional knight games.
Amidst this, you'll encounter unique obstacles like mixing water and lava to create stones. This is where the game takes cues from monster games, pitting you against formidable forces of nature in addition to enemy knights. Releasing gas at opponents adds another strategic layer for those who love a good challenge.
The thrill of victory extends beyond survival - taking all the gold for yourself is an added incentive that harkens back to classic jewel games. The gold fuels progress, enhancing gameplay and contributing to an overall sense of accomplishment.
To sum it up, Help The Hero is a masterful blend of knight games, brain games, monster games, and jewel games. It's more than just about winning; it's about strategizing, anticipating enemy moves and being one step ahead. Treat yourself to this thrilling adventure and find out if you have what it takes to help the hero survive!
What are the best online games?