PvPz.io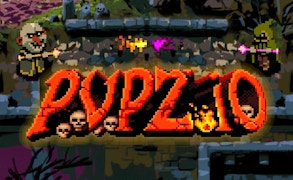 PvPz.io
Ah, greetings, adventurer! Have you ever wondered what lies within the mystical world of PvPz.io?
Brace yourself for a pixeled online multiplayer experience where magic and danger intertwine. Engage in heart-racing battles against adversaries who possess dark powers, immersing yourself in a thrilling quest for victory. With every shot unleashed and every mighty spell cast, time becomes your greatest enemy, urging you to triumph before it slips away. But that's just the beginning of your epic journey!
As you venture forth, prepare to gather an impressive array of weapons, each more powerful than the last. Navigate treacherous obstacles with masterful skill, honing your abilities to overcome the challenges that lie in your path. And oh, the treasures that await! Seek out hidden riches, waiting to be discovered by the bold and courageous.
Remember, dear adventurer, to tap into your inner strength and summon the depths of your courage. Unleash your impeccable combat skills, for they are the key to toppling even the mightiest of foes. PvPz.io offers an adventure like no other, where fortune favors the brave.
How to Play:
Arrow Keys or W A S D = Move
Mouse = Aim weapon
Mouse left button = Shoot
1 = Switch weapon 1
2 = Switch weapon 2
3 = Ability 1
4 = Ability 2
5 = Ability 3
I = Inventory
L = Leaderboard
Who created PvPz.io?
Discover PvPz.io, a retro style game created by the talented developers at Iron Fox Games under their new consumer label, Second Monitor Games.
Languages available:
English, Spanish (Español), Russian (Русский), and Portuguese (Português).
What are the best online games?
Tags