Heavy Combat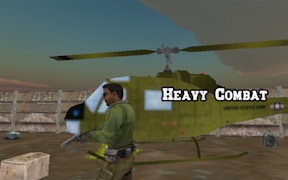 Heavy Combat
Immerse yourself in the high-stakes world of Heavy Combat, a game that effortlessly takes its place among the greatest war games available today. As a remarkable addition to the genre of battle games, Heavy Combat is a deeply engrossing foray into the tumultuous terrain of global warfare, staged across three compelling maps each featuring ten adrenaline-pumping levels.
For fans of sniper games, Heavy Combat hits the bullseye. Step into the shoes of an elite mercenary tasked with thwarting malicious, evil terrorists wreaking havoc in distinctive locations. The game is teeming with diverse mission objectives, injecting a level of variety and unpredictability that keeps players on their toes and ensures every stage brims with tension.
In this ultimate survival game, your prowess in resource management and tactical decision-making are as critical as your shooting skills. Experience a thrilling cocktail of uncertainty, anticipation, and exhilarating action that brings a fresh spin to the genre of gun games.
The maps are meticulously designed, exhibiting awe-inspiring attention-to-detail that adds an additional layer of realism to this exceptional war-game spectacle. With each progressing level, the stakes escalate exponentially, testing your mettle as you delve deeper into enemy territory.
In conclusion, Heavy Combat is one for the history books as it beautifully intertwines masterful gameplay dynamics with engaging mission objectives within a graphically stunning environment. It's time to unlock your inner mercenary and wage an epic battle against terror. Are you up for the challenge?
What are the best online games?