Heads Mayhem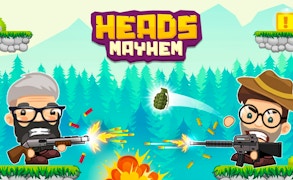 Heads Mayhem
Step right into the exhilarating world of Heads Mayhem, a riveting addition to the realm of gun games, battle games, and survival games. Loved by gamers as one of the most thrilling 2 player games, Heads Mayhem is an adrenaline-pumping ride that you'd hate to miss out on.
The game kicks off with a bang, offering an uber-exciting adventure that's drenched in action. Featuring eleven quirky and fun game characters, Heads Mayhem invites you into a battlefield that's both exciting and unpredictable. Whether you're itching for a one-on-one duel or a chaotic 4 player battle royale, this game has got you covered.
With eight different breathtakingly designed game maps and diverse weapons options at your disposal, Heads Mayhem provides endless entertainment. Every map brings its own unique flavour, ensuring that each skirmish is cheekier than the last. Broaden your arsenal with a variety of lethal weapons tailored to turn every battle into an epic clash of wit and firepower.
The crowning jewel of Heads Mayhem is its phenomenal variety in gaming modes. Choose from Single Player mode for some solo showdown time or dive into 2,3,4 Players Game modes when out with your buddies. The latter options are especially inviting if you love team play or wish to stir up some friendly rivalry amongst friends.
In conclusion, whether you are a seasoned veteran in the world of shooting games or just beginning your journey, Heads Mayhem is sure to provide hours upon hours of gameplay excitement. This game breaks conventional boundaries by brilliantly blending the elements of gun games, battle games and survival games all under one roof. So gear up for an unforgettable experience full of nail-biting suspense and sheer joyous chaos!
What are the best online games?