Handless Millionaire Unblocked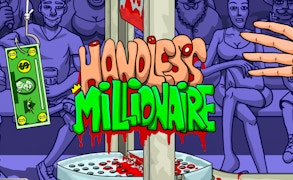 Handless Millionaire Unblocked
Description
Enter a grotesque game show where your bravery is tested to the limit in Handless Millionaire Unblocked. Would you dare to snatch cash from under a razor sharp guillotine? This spine-chilling game pushes your nerves and reflexes to the edge as you risk everything for the dream of being a millionaire. Click, watch and pray as the swift blade descends!
How to Play
Easy yet thrilling, Handless Millionaire Unblocked is all about timing. Click on the screen to reach for the cash before it disappears, but release your grip before the guillotine falls! Rack up a hefty fortune and advance through increasingly challenging rounds. Remember, greed can cost you an arm!
Tips and Tricks
Patience is key. Learn the guillotine's rhythm and strike at the perfect moment. Don't let fear or greed cloud your judgement. Hurrying might win you some money, but losing an arm will end your millionaire dreams abruptly!
Features
Frighteningly addictive gameplay with edge-of-your-seat tension.
Risky, high-stakes strategy needed for grabbing cash.
Engaging multiplayer mode to compete against others across the globe.
Vivid graphics that heighten the sense of imminent danger.
What are the best online games?