Halloween Idle World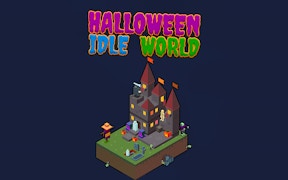 Halloween Idle World
Welcome to the revoltingly riveting realm of Halloween Idle World, a unique mash-up of clicker games, idle games, and building games. Here, players are thrust into a haunting world where they get the chance to construct their own spooky empire from the ground up, bone by chilling bone.
In this freakishly fascinating game, players strive to create an entire Halloween-themed world by collecting ghastly items like eerie skulls and eldritch pumpkins. With every click or tap, you'll feel a dauntless thrill and enjoy gratifying progress. The game presents an engaging rhythm that merges the best characteristics clicker games, tap games, and idle games into one ghoulishly delightful concoction.
The journey begins with a pithy pumpkin patch. As you cultivate your skills and accumulate rewards, you unlock new spectral structures and spine-chilling features. Building upon this foundation, your empire gradually transforms into an intricately designed Halloween city that's sure to send shivers down your spine.
The satisfaction derived from progressing in this game is uncannily addictive. The more you tap, the more immersive the experience becomes as your spectral skyline expands under the ghostly glow of moonlight. There's nothing quite as satisfying as watching your humble pumpkin patch morph into a sprawling metropolis of mayhem.
Whether you're drawn to the grind of idle games or intrigued by the interactive involvement of clicker games, Halloween Idle World is sure to beguile you with its captivating challenges and spooky settings. Not just for fans of frightful fun, but also for those who appreciate well-crafted building mechanics within their gaming universe.
If ever there was a game that perfectly encapsulates the spirit (pun absolutely intended) of Halloween in all its gory glory- it's Halloween Idle World!
What are the best online games?