Hair Do Design 2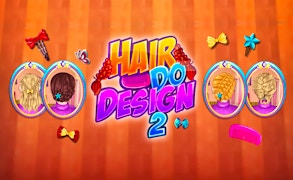 Hair Do Design 2
There are two kinds of people in the world, those who care about their hair and those who don't pay much attention to it but you can see the care that can go into it with Hair Do Design 2. You are working in a salon and someone has come to you to get their hair tended to and styled. You may or may not be a hair expert, but the good news is that you have some obvious tools at your disposal to unleash upon the blank canvas of hair seated before you. This a chance to clean, strengthen, and dress up someone's head your way.
About Hair Do Design 2
Styling games about hair or otherwise are kind of like activity books or puzzles where you just need to figure out the steps. This game boils down what can be a very lengthy and complex haircare process to a few key tools and procedures. There's not much risk involved since you're not being ranked and customers aren't going to leave ratings to your digital salon. If something doesn't fit, you just need to think about what you have, how the hair looks, and how it should look. It's a hairy situation that you'll be able to untangle.
How to Play
Hair Do Design 2 is a 2D styling activity game about cleaning and dressing up someone's hair by using the mouse. You can use the cursor to navigate the different game screens and you can click on the Left Mouse Button to select what tool you want to use. Then drag it over the area of the hair you want to affect. The goal is to successfully complete all the steps of the cleaning and styling process with several different hairstyles to master.
There are two main parts to this haircare: Cleaning and styling. In the cleaning stage, you need to smooth out and soften the hair so that it's easier to style. This involves using things like shampoo, the shower, and steam to make the hair look silky and shiny. You can tell that you've used the tool enough when colorful bubbles appear. Once you've used all the tools in the cleaning stage, you can move on to the styling stage.
Once you select which hairstyle you'd like to attempt, you'll receive prompts onscreen. Trace the mouse carefully through them to start styling. Once the prompts disappear, the style will be complete. For an extra touch, you can click on the dyes to change the hair's color or select one of the accessories in the menu on the left.
Tips and Tricks
There's not much to say about this game and there's very little you can do to mess it up. If you're at a total loss for what to do, keep your sound clear so that you can hear an in-game voice give you hints about what to do next.
Game Details
Developer: GameiMax
Platforms: Web Browser (PC and mobile)
Languages: English

Gameplay Footage
FAQs
Is Hair Do Design 2 available on other platforms?
The game looks similar to a Flash game and there's evidence that it used to be on Android, but it seems like that version has since been removed.
Games similar to Hair Do Design 2
From the content of this game, you can guess that it's going to be in the Hairdresser and Fashion Games categories on GamePix. You can also find My Manga Avatar, Fun Sisters Night, Princess Pet Studio, and Yes That Dress.
What are the best online games?