Rainbow Frozen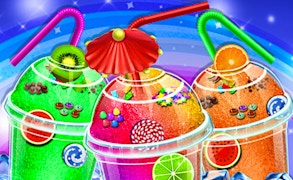 Rainbow Frozen
Get ready to dive into a refreshing world of icy delights with the alluring Rainbow Frozen game. As a signature treat for those scorching summer days, Rainbow Frozen exudes a tantalizing appeal meant to capture the hearts of young gaming enthusiasts. Specifically tailored as one of the leading Games for Kids, it offers an enchanting blend of creativity and imagination.
If you are on the hunt for engaging Games for Girls, Rainbow Frozen is your ultimate destination. With its vibrant colors and whimsical design elements, it excites and engages every young mind eager to experiment with flavors and decorations. The game's main focus revolves around creating unique Frozens - invoking a sense of achievement in every young girl as she prepares her beverage according to her preferences.
When it comes to Cooking Games, Rainbow Frozen stands out from the crowd. It caters not only to the culinary interests of kids but also ignites their creativity. The opportunity to choose both flavors and fruit garnishes allows players to express their artistic flair in a fun-filled environment.
As far as Fun Games go, Rainbow Frozen is truly a breath of fresh air. Whether it's selecting unique combinations of flavors or decorating glasses with flamboyant adornments, there's never a dull moment playing this game. Every step is filled with exhilaration, making it one versatile selection amongst kids' games.
To sum up, Rainbow Frozen encapsulates all the ingredients that make up the perfect kid's game: colorful visuals, engaging gameplay, and an environment that stimulates creativity. Whether your little one is an aspiring chef or just looking for some light-hearted fun, Rainbow Frozen is set to deliver on all fronts.
What are the best online games?