My Dolphin Show 6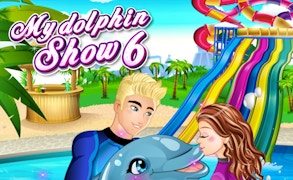 My Dolphin Show 6
Dive into a world of excitement and aquatic acrobatics with My Dolphin Show 6, the latest installment in a beloved series of animal games that continue to captivate kids around the globe.
This is not just another game for girls or boys - it's a fun, family-friendly experience that appeals to all age groups. Offering an array of incredible dolphin jumps, jaw-dropping tricks, and spectacular stunts, this game will keep players glued to their devices for hours on end.
The vibrant visuals and engaging gameplay make My Dolphin Show 6 the ultimate addition to your virtual aquarium. The standout feature remains the ability for your dolphin to perform awe-inspiring tricks. The impressive array of options for customizing your dolphin adds an extra layer of interest and keeps the gameplay experience fresh and thrilling.
Animal games
have never been so exhilarating! The immersive gaming environment will transport you directly into an undersea wonderland where you can interact with your marine friends and fill your day with endless enjoyment.
If you've been on a quest for engaging, immersive games for girls, My Dolphin Show 6 ticks all the boxes. It goes above and beyond by providing a game that fosters creativity, problem-solving, and fine motor skills development while ensuring plenty of laughs along the way.
All in all, My Dolphin Show 6 stands as a testament to how animal games have evolved over time, providing more interactive and enjoyable experiences marked by dazzling graphics, intuitive controls and ultra-fun gameplay that kids (and adults!) can't get enough of.
What are the best online games?