Gym Shark Woman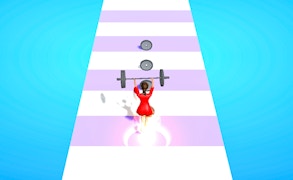 Gym Shark Woman
Description
In Gym Shark Woman, you play a muscular heroine in an action-filled game. Your character possesses great strength, capable of climbing walls with the sheer power of her biceps. Your mission is to navigate through murky territories, pump your muscles, and overcome adversaries. However, beware! Too much exertion could lead to your downfall.
How to play
To play this battle game, use the arrow keys to maneuver through different obstacles. Use the space bar for power moves like wall-climbing or defeating enemies. Don't go too hard on those muscles, though; draining your energy bar entirely means game over. Progressing in the game means building endurance and strategically outmuscling enemies.
Tips and Tricks
Remember that while you are incredibly strong, you must also be strategic. Don't waste energy in unnecessary combat - choose your battles wisely. Use your wall-climbing ability sparingly as it drains a lot of energy. Keep an eye on your energy bar and replenish it when necessary.
Features
Energetic Gameplay: Fast-paced and action-packed challenges requiring smart moves and quick decisions.
Character-building: Strengthen your character's muscle form as you progress in the game.
Vibrant Graphics: Enjoy visually appealing gameplay with colorful characters and lush landscapes.
Suitable for all ages: The game caters to all age groups, providing both fun and excitement.
What are the best online games?