Guns n Glory Heroes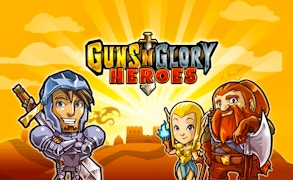 Guns n Glory Heroes
People will always be able to come up with reasons to have epic battles in a medieval fantasy setting which is what's happening in Guns N Glory Heroes. This is another take on the tower defense genre but with something a little different going on. Instead of the towers doing all of the work, there's a greater emphasis on individual units. In fact, it's all about a trio of heroes who have been tasked with defending the kingdom against a growing horde of evil forces. They're decked out with a lot of weapons to cover their bases but they have a huge task ahead of them.
About Guns N Glory Heroes
Tower Defense games have come a long way but their core remains mostly intact but it makes for a solid gameplay setup. This game uses it as the main objective where heroes are defending the towers from attacks. As a result, a greater emphasis is placed on the growth and strategy of the few heroes that you have. You really need to get a feel for their strengths and weaknesses so that you can move them to their optimal positions. You may be defending towers, but you also need to have the heroes defend each other or you'll suffer defeat down the road.
How to Play
Guns N Glory Heroes is a top-down 2D tower defense and strategy game about commanding heroes using the mouse. To select a hero or an ability, just click on them with the Left Mouse Button. After selecting, click the area where you want to move the hero or where you want to use the ability (you can also move heroes by clicking and dragging them). Heroes have an attack range indicated by a glowing circle and will automatically attack when enemies enter it. Your goal on each level is to protect the towers, defeat the enemies, and keep your heroes standing for the highest score.

You have three heroes: The Knight, the Berserk, and the Mage. The Knight is a balanced unit with a solid defense that specializes in melee attacks. The Berserk is an offensive unit with high damage in melee and ranged. The Mage is a control unit that only has ranged attacks but has access to powerful spells. You need to arrange these heroes along the various paths winding throughout the level to prepare for the waves of enemies.
Icons will appear on the map to indicate in which direction enemies will come and how many will come. When they appear, they will stick to the path but will turn their attention to your heroes once they get in range. Enemies come in multiple varieties being a mix of melee, ranged, and magic fighters. You can lay traps along the paths or prepare spells with lingering effects along the enemy path. If enemies reach a tower, they will start to destroy it. If you lose all your towers or all of your heroes die, you'll need to restart the level.
The more you fight, the stronger your heroes will get, leveling up their stats and their abilities. Each hero gets four different abilities that each have a limited number of uses before they need to recharge. For additional options on the field, you can visit the Goblin Merchant to buy useful potions and items or the Wizard Merchants to buy scrolls that strengthen your powers.
Tips and Tricks
The key to making it through every level is to keep your heroes as healthy as possible. The standard but effective setup is to have the Knight and Berserk on the frontlines with the Mage providing artillery. You should always take advantage of traps, using units to stall and then setting them up down the path before pulling back.
Game Details
Developer: Handy Games
Platforms: Web Browser (PC and mobile), iOS, and Android
Languages: English
Gameplay Footage
FAQs
Why is Guns N Glory Heroes a wearable game?
The game is designed with portability and casualty in mind which is why it's made to run well on devices like smart watches, so that you can literally wear it while you play it.
Games similar to Guns N Glory Heroes
With the theming and the gameplay it offers, this title can be found in the Mobile and Knight Games categories on GamePix. You've also got Knife Ninja, Tiny Tomb, Narrow One, and Royal Guard.
What are the best online games?