GunGame Paintball Wars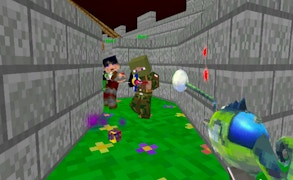 GunGame Paintball Wars
Welcome to the adrenaline-pumping world of GunGame Paintball Wars. If you're a fan of pixel games, gun games, survival games, sniper games, and battle games, brace yourself for an exciting ride. This unique amalgamation of genres is designed to test your skills and push you to your limits in this combative gaming universe.
The game offers an array of thrilling gameplay modes including team vs team, free for all and gungame. But that's not all - GunGame Paintball Wars has taken a leap by integrating zombie elements into the mix. The enemy AI doesn't just include other soldiers, but also hordes of menacing zombies that are thirsting for battle. Test your survival instincts as you navigate through survival wave zombie mode. Whether you are playing solo or with friends, each level promises to be more challenging than the last.
With its pixelated art style, GunGame Paintball Wars brings a classic retro aesthetic that is sure to appeal to fans old school gun games. Do not be fooled though – the advanced enemy AI ensures that the gameplay is anything but outdated.
The multiplayer feature brings an added layer to the overall experience. Team up with friends or go head-to-head against players from around the globe in high-stakes paintball battles.
In conclusion, GunGame Paintball Wars is more than just your average shooter game; it's a heart-racing ride filled with non-stop action, strategic gameplay and a twist of zombie horror thrown in for good measure. Step into this pixelated battlefield and get ready to experience a unique blend of genres like never before.
What are the best online games?