GunBattle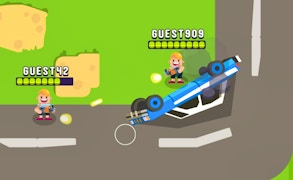 GunBattle
If you're seeking high-octane battle royale games with heart-stopping intensity, then your search ends with GunBattle – a stunning addition to the lineup of survival games.
The first thing that sets GunBattle apart in the sea of gun games is its jaw-dropping environment. As an all-out warfare game, the setting, a blend of pastoral landscapes and post-apocalyptic ruins, is as lethal as the warriors themselves. Every corner of the map conceals a potential ambush or offers an opportunity for victory.
In this thrilling world of battle games, you are pushed to your limits. Survival is not merely outlasting your enemies—it's also outmaneuvering them. With every gunshot echoing through the virtual wilderness, you're reminded that danger lurks everywhere and it's a race against time.
A feature that makes GunBattle stand out among shooting games, is its authentic weaponry. The choice of guns is impressive, from close-combat shotguns to long-range sniper rifles. Every firearm feels visceral and impactful, each shot tearing through the silence with deadly accuracy.
But GunBattle isn't just about shooting—it's about strategy too. The deeper you dive into this world of battle royale games, the more you realize it's not only about having the most powerful gun or being the fastest on your feet—it's about being last. And to be last in GunBattle, demands wit and strategy.
In conclusion, GunBattle isn't just another title in 'The Hunger Games' style survival contests—it's redefining them. Gone are the days when surviving was winning—GunBattle has raised the stakes in gun games. Now it's not about surviving but being victorious amidst chaos and uncertainty—being last!
What are the best online games?