GTA: Save My City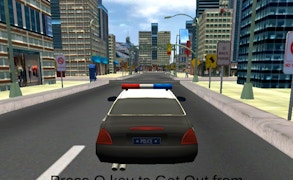 GTA: Save My City
Calling all thrill-seekers and adrenaline junkies to join a high-octane adventure on the gritty streets of the metropolis in the expansive world of GTA: Save My City. This game perfectly marries the excitement of car games, heart-pounding drama of police games, fast-paced momentum of running games, and the dangerous allure of gangster games.
The first thing to strike you when you dive into this exhilarating rollercoaster of a game is its ultra-realistic gameplay. Whether you're using WASD or arrow keys, controlling your law-enforcing vehicle through chaotic cityscapes gives you a palpable sense of being in the driving seat - literally and metaphorically - high-speed chases never felt so real!
The premise is simple yet challenging; it's your duty as a drift police cop to maintain law and order by combating criminal activities perpetuated by gangsters who are hell-bent on creating chaos. Your siren becomes a beacon of hope, warning civilians and intimidating criminals, making them think twice before carrying out their nefarious plans.
The game excels in thrill-inducing police pursuit missions designed to test your driving prowess against relentless AI gangsters. Completing these missions not only enhances your reputation as the guardian angel of this city but also ratchets up the intensity that leaves you breathless yet longing for more.
Nowhere else will you find an action-packed, adrenaline-pumping mix of car games, police games, running games, and gangster games as served up in GTA: Save My City. Its nail-biting tension, coupled with an unrelenting pace keeps you glued to your screen, promising hours upon hours of sheer entertainment – It's time to rev those engines and gear up for some heart-stopping action!
What are the best online games?