Fun Race 3D Game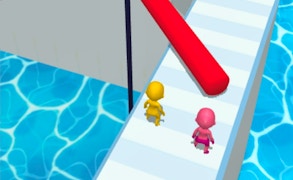 Fun Race 3D Game
Prepare yourself for a breathtaking adventure through the exhilarating world of Fun Race 3D, a pulse-pounding platformer that ranks among the most entertaining stickman games on the market. This gem stands at the intersection of action and agility, delivering an experience that is every bit as demanding as it is delightful.
A shining star in the firmament of running games, Fun Race 3D pitches you into a vibrant 3D landscape, where your stickman avatar must dash, leap, and slide his way to victory. Competition is fierce, with rivals hot on your heels, each vying to reach the finish line first. It's a test of skill and speed that will keep you riveted from start to finish.
The beauty of Fun Race 3D lies not just in its addictive gameplay but also in its customization options. There's more to this game than simply sprinting for the finish line. Along your journey, you'll have the chance to amass an impressive collection of stylish skins and eye-catching dancing postures. These unlockables add an extra layer of fun and personalization to the game, ensuring that no two races are ever alike.
In terms of Skill Games, Fun Race 3D strikes a fine balance between challenge and accessibility. Whether you're a seasoned gamer or new to the genre, this game offers enjoyment at every level with its intuitive controls and dynamic game mechanics.
In summary, Fun Race 3D achieves a rare blend of captivating gameplay, rewarding progression systems, and engrossing visuals that makes it stand head and shoulders above many other stickman games. Submerge into this stimulating race today and experience what truly makes it 'fun'!
What are the best online games?