Fruit Juice Maker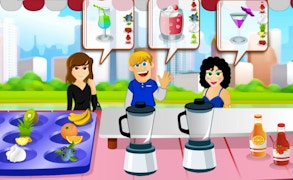 Fruit Juice Maker
Welcome to the invigorating world of Fruit Juice Maker, a game that excellently marries the thrill of strategy, management games, and restaurant games into one tantalizing cocktail of fun. For those with an inclination towards cooking games, Fruit Juice Maker offers a fresh blend of strategic planning and resource management that will surely captivate your taste buds.
Fruit Juice Maker is not just about slicing fruits and squeezing them into a delicious and enticing juice. It's about managing time, resources, and strategies to achieve the optimum results. The game injects a fruitful dose of strategy into the mix, turning this seemingly simple task into an engaging experience unlike any other offering in the genre.
The multiple game modes keeps the gameplay refreshing. Whether you're a seasoned restauranteur or navigating your first juice bar, there's always something new to experience, spritzing each play-through with an invigorating squirt of novelty. Your business acumen and decision-making skills are constantly put to the test, making this simulation as juicy as it is challenging.
Apart from compelling gameplay, Fruit Juice Maker is enhanced by its good graphics. The visual elements are beautifully crafted - every slice, mix, and pour is delightfully vibrant making gameplay not only fun but visually appetizing as well.
All in all, Fruit Juice Maker is a refreshing infusion that merges strategic management with culinary creativity wrapped in impeccable graphics - offering an intoxicating gaming experience for all adventure-seeking juice tycoons out there!
What are the best online games?