Frontline Commando Mission 3D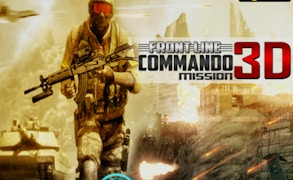 Frontline Commando Mission 3D
Get ready to delve into the heart-thumping world of Frontline Commando Mission 3D, a unique fusion of gun games, battle games, and war games. This is not just another run-of-the-mill shooting game, but an immersive battleground where each bullet matters and every move can tip the scales of war.
As you step into the shoes of a titan warrior, your sole purpose is survival. Be it by land or air, Frontline Commando Mission 3D is not just one among many survival games; it's a survival test in a war-torn atmosphere. As you pilot your helicopter across hostile territories, you'll find that this game sets the standard for helicopter games, with each mission testing your aerial combat skills to the limit.
The sniper missions require precision and patience, justifiably earning it a spot in the venerable list of top-notch sniper games. The game tests your mettle as a sniper; each shot could mean victory or defeat. You'll soon learn that heroism isn't just about rushing to the frontline but also waiting for the perfect moment to pull the trigger.
In Frontline Commando Mission 3D, you're not merely placed amidst polygonal chaos – you experience gripping narratives and intense firefights where every decision contributes to your legend. Engage in heart-pounding fights, outsmart enemies in strategic battles, conquer war grounds and earn fame that echoes in every corner of this virtual world.
Frontline Commando Mission 3D offers an engaging mix of strategy, action, and adventure - proving once again that there is no dearth of thrill when it comes to spectacular shooting games. Strap up for an unforgettable ride through explosive battlegrounds and become an immortal name in the annals of war heroes.
What are the best online games?