Freddy's Escape House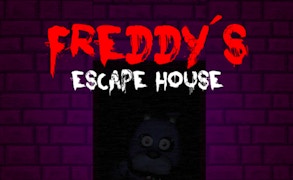 Freddy's Escape House
Step into the gripping world of Freddy's Escape House, one of the most intense Action genre games that will send chills down your spine. As the latest entrant in the Scary Games category, this game sets new standards for thrill and excitement.
The concept is simple yet captivating - you're trapped in Freddy's formidable house, a perplexing labyrinth filled with ominous traps and harrowing challenges. The objective is to escape as swiftly as possible. Fleeing from the labyrinth, sliding your mouse to unlatch doors and running for dear life combines elements of Escape Games and Running Games, creating an adrenaline-pumping gaming experience.
The challenge escalates as you strive to score higher by escaping faster. This time-sensitive dynamic adds a relentless edge to Freddy's Escape House, making every second count. And the best part? You can unlock Freddy's friends for even more nail-biting escapes and challenge your friends for the ultimate escape artist title.
Freddy's Escape House is back, darker and more sinister than ever, daring you to run away from its eerie corners and chilling hallways. The immersive gameplay coupled with suspenseful audio-visual effects make every attempt to escape an intense showdown against fear itself.
In conclusion, whether you're a seasoned gamer or simply enjoy thrilling experiences, don't miss out on Freddy's Escape House. This unparalleled mix of horror-inspired suspense and action-packed gameplay ensures an experience that will have your heart pounding in no time.
Freddy's Escape House: Where every door leads to more fear, every corridor echoes with dread, and only the quickest survive!
What are the best online games?