Frankenstein vs Orcs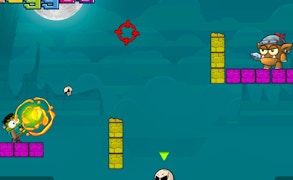 Frankenstein vs Orcs
Unleash your inner monster-slayer in Frankenstein vs Orcs, one of the most enthralling monster games to hit the gaming scene in recent times. Dive into a post-apocalyptic world where you, as Franky, toil to save humanity by blowing up gruesome orcs and marauding zombies.
We're not just talking about another run-of-the-mill zombie game here. No, this is a symphony of carnage and chaos that will capture your imagination and keep you on the edge of your seat. It's an intoxicating blend of relentless action, hair-raising suspense and unrelenting horror that sets Frankenstein vs Orcs apart from other typical gun games.
The game mechanics are easy to grasp yet challenging to master, offering an addictive blend of strategy and luck. The range of weaponry at your disposal is impressive, adding another layer of depth to the game. From shotguns that deliver punchy close-quarters damage to sniper rifles for long-range dispatches, this shooting game provides all the tools you need for your monstrous crusade.
The graphics are stunningly atmospheric, beautifully transporting you into a post-apocalyptic landscape overrun by orcs and zombies. The immersive soundtrack only adds to the allure of this gruesome spectacle.
In terms of replayability, Frankenstein vs Orcs excels like few others with its challenging missions, numerous unlockables and daily challenges. A gripping narrative keeps you invested throughout as you follow Franky's journey from being a creation of science to becoming humanity's last hope.
In conclusion, if you're searching for a game that expertly combines elements of monster games, zombie games, and gun games, look no further than Frankenstein vs Orcs. Jump into this riveting shooting adventure now and help Franky blow up some orcs!
What are the best online games?