FPS Assault Shooter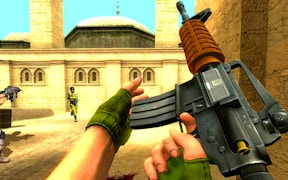 FPS Assault Shooter
Ready your arsenal, game enthusiasts, because FPS Assault Shooter is about to take you on a rollercoaster ride through the exhilarating world of gun games, battle games, and war games. With an intense gameplay that keeps you on your toes, this game sets a new standard in the realm of first-person shooters.
No ordinary survival game, FPS Assault Shooter advances the genre with its incredible arsenal of devastating weaponry. The unique textures and detailing demonstrate an attention to craftsmanship that true gun enthusiasts will appreciate. Prepare for blood-pumping action as you navigate through intriguing scenarios and grisly battlegrounds - a true testament to the thrilling nature of sniper games.
The game's ranking system adds an addictive competitive element. Level ups and weapon upgrades provide a continuous sense of achievement and progression - it's not just about surviving; it's about becoming the ultimate survivor. As you emerge victorious from battles, improve your artillery for assault combat, increasing your resilience and turning yourself into an unstoppable force.
FPS Assault Shooter gives you the opportunity to step into the shoes of an elite shooter entangled in intense combat situations, where every decision matters. Every gunshot echoes with authenticity, taking gun games realism to a whole new level.
This game isn't just about being part of the action; it's about dominating it. It's more than just a game; it's war—it's survival against all odds. Choose your assault weapon wisely and prove to be the last man standing in this high-stakes battlefield.
In conclusion, FPS Assault Shooter redefines what amazing shooting games, survival games, and war games should look like with its compelling gameplay mechanics and immersive narrative. Whether you're a seasoned gamer or a rookie soldier fresh on the battlefield, FPS Assault Shooter promises an unforgettable gaming experience!
What are the best online games?