Forsake the Rake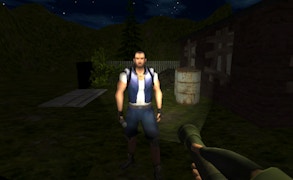 Forsake the Rake
Step into the eerie darkness of Forsake the Rake, one of the latest entries in the increasingly popular genre of shooting games. It's a hair-raising roller coaster ride that merges elements of gun games, sniper games, monster games, horror games, and scary games into one spine-tingling package.
In Forsake the Rake, you and a friend are thrust into an ominous forest hiding a derelict underground lab. Armed with courage, your mission is to uncover the chilling truth about The Rake, a terrifying full 3D monster that lurks in the shadows. With its 10 meticulously crafted levels, this game is not for the faint-hearted.
The graphics are both enthralling and horrifying, creating an atmosphere that keeps you on edge. Every level plunges you deeper into this nightmare, pushing your fear to its utmost limits. The 3D rendering of The Rake is particularly noteworthy - it's guaranteed to send shivers down your spine!
The controls are smooth and intuitive, allowing even beginners to jump in without feeling overwhelmed. Despite being a nail-biting thrill ride, Forsake the Rake balances adrenaline with accessibility, ensuring that all players can enjoy its dark allure.
Forsake the Rake is more than just a shooting game; it's an exploration into our primal fears. It's a terrifying journey that will leave you breathless but begging for more. Whether you're a fan of gun games, sniper games or horror genre enthusiasts yearning for something new; brace yourselves for an unforgettable experience with Forsake the Rake!
This isn't just another monster game - it's an intimately crafted horror piece set to redefine your perception of what scary games can achieve. Embark on your quest for truth if you dare, but remember - in Forsake the Rake, fear is just another part of the game.
What are the best online games?