ForceZ.io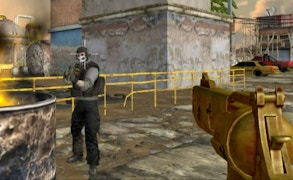 ForceZ.io
Get ready to delve into the heart-pounding, adrenaline-fueled action of ForceZ.io, one of the most dynamic entries in the gun games, battle games, and survival games genre. This captivating title straddles the gripping intensity of war games and the strategic precision of sniper games, delivering an all-encompassing gaming experience that will keep you on your toes.
Thrust into a selection of five different arenas, each meticulously crafted and uniquely challenging, ForceZ.io offers a rich landscape of destruction and survival. The immersive multiplayer mode further amplifies the thrill as you strategically navigate through these lethal battlegrounds.
The game is abundantly outfitted with an array of weapons, escalating your destructive prowess and turning you into an unstoppable force against your enemies. From rapid-fire rifles to devastating rocket launchers, ForceZ.io pulls no punches when it comes to artillery.
Diversity is taken a step further with room options like "double speed," "double jump," and "double hp". These game modifiers switch up the conventional gameplay dynamics, giving players more power or presenting them with new challenges.
Apart from this storm of bullets and explosions is a strategically empowering armor shop, allowing you to buff up your defenses according to your preferred playstyle. Prepare for a head-on collision as this arresting blend of strategy and survival pulls you into its vortex.
In summary, whether you're an avid fan of relentless gunfights or tactically driven sniper showdowns, ForceZ.io showcases a perfect symphony of chaos and strategy that cements its status in the top tier of shooting games.
What are the best online games?