Foody Avenue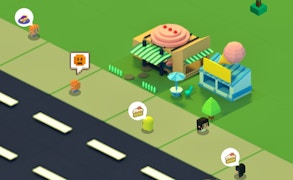 Foody Avenue
If you are yearning for a blend of restaurant games, cooking games, and management games that will ignite your strategic thinking, then Foody Avenue is the game for you. Foody Avenue is an engaging simulator game that takes you on an exciting journey to build and manage your own business avenue. The game emerges as one of the unique entries in the clicker games genre, where every click leads to a thrilling new adventure.
Foody Avenue doesn't just challenge your cooking skills but also tests your business management prowess. It goes beyond being just another entry in the realm of tycoon games. Rather than simple money-making schemes found in standard money games, this game offers an avenue (pun intended) to learn how to effectively manage resources and time to expand your restaurant empire.
In Foody Avenue, every decision matters - from crafting mouth-watering recipes to running high-end restaurants & chic cafes. And it's not just about running one restaurant - you must manage multiple establishments simultaneously to earn fat stacks of cash and become the most successful tycoon in town.
The recent update has fixed the frozen screen issue when ads failed to show up, ensuring a smoother gaming experience. This quality-of-life improvement adds to the overall enjoyment of Foody Avenue, making it even more enticing for both new and experienced gamers.
All in all, Foody Avenue is an intriguing mix of strategy, management, and cooking elements that will keep players engaged for hours on end. Despite being a relatively new entrant in the world of restaurant simulation games, it's already making quite a stir with its dynamic gameplay and deep mechanics. If you are on the lookout for immersive gameplay coupled with strategic depth, Foody Avenue should definitely be on your radar.
What are the best online games?