FNaF Shooter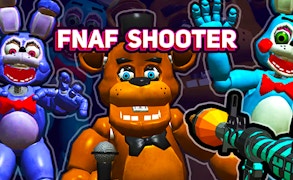 FNaF Shooter
Welcome to the thrilling world of FNaF Shooter, a vibrant cocktail of gun games, survival games, and the chilling elements of sniper games, battle games, monster games, scary games, and last but not least, horror games.
In this adrenaline-pumping journey, you're not just an innocent bystander in a supermarket. No! You are the knight in tainted armor, the only hope against a quirky nightmare. Nighttime in this game takes on a new meaning as our lovely animatronics turn off the power and transform into tenacious hunters.
The stakes are high! These relentless creatures will follow you to the ends of each aisle, even if you happen to dismember their limbs. Their singular goal? To hunt down any remaining visitors. The excitement escalates as only one way is there to destroy them - tear them apart piece by piece. Such an element adds to the delight of this unique survival game.
This game is anything but cute; it's horrifyingly engaging! As it weaves elements of various genres that keep you engaged and constantly on your toes. Be it from the edge-of-the-seat battles or the nerve-racking monster chases; FNaF shooter has all ingredients stirred perfectly to invoke a sense of urgency fused with fear among gamers.
Your mission if you choose to accept it: Survive against all odds and save the world from an invasion that promises chaos and horror at every corner. Are you ready for this unforgettable ride? It's time to get your game face on with FNaF Shooter!
If you ever dreamed about mashup between gun games and horror survival genres - FNaF Shooter has got you covered! It's impossible not to mention how chilling effect was added by incorporating sniper elements into it making it scarier like no other game.
What are the best online games?