Flying Superhero Revenge Grand City Captain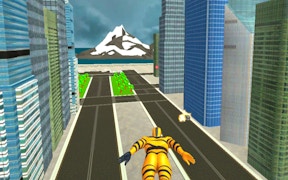 Flying Superhero Revenge Grand City Captain
Welcome to the high-octane world of Flying Superhero Revenge Grand City Captain, a dynamic blend of flying games, battle games, skill games, and survival games all wrapped up in one thrilling package. If you're a fan of action-filled superhero war games set in sprawling urban landscapes, prepare to have your expectations not just met, but exceeded.
This game plunges you into the heart of an American city teeming with danger and intrigue. You become the last line of defense against chaos - a superhero with the power of flight. Your mission? To outmaneuver and outfight your enemies in epic airborne battles, and ultimately rescue a city on the brink.
The controls are intuitive and responsive. WASD commands make manoeuvring through the game's complex urban environment a breeze. The Space key launches you into the skies while Shift propels you into a sprint. The mouse offers precise control over attacks (including an alternative option with Q), making each battle feel personal and hands-on. The cherry on top is the F key – your ticket to soaring above skyscrapers as you patrol your city.
If being a crime-fighting saviour is your fantasy, then Flying Superhero Revenge Grand City Captain catapults that fantasy into immersive reality. This game doesn't just let you partake in superhero war games – it lets you live them as part of an engaging narrative peppered with rescue missions and survival challenges. The end result is an intoxicating cocktail of flying games and skill games that will test both your reflexes and strategic prowess.
Tighten your cape, brace yourself for takeoff, and get ready for one of the finest action gaming experiences offered by Flying Superhero Revenge Grand City Captain.
What are the best online games?