Fly This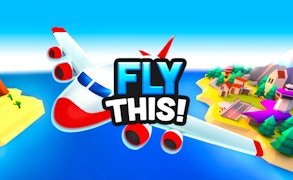 Fly This
Prepare for a thrilling ride in the clouds with Fly THIS!, a captivating sequel from the award-winning team that brought you Conduct THIS! As one of the most exhilarating airplane games on the gaming radar, Fly THIS! successfully challenges your inner air traffic controller with its visceral action-puzzles.
No need to worry about understanding complex physics or digging into thick manuals — the simple and intuitive gameplay makes it accessible for everyone. Drawing flight paths and dodging collisions has never been this fun, and the added layer of time management ramps up the excitement as you race against the ticking clock.
Fly THIS! doesn't just stop at being an adrenaline-pumping flying game. It dips its wings into elements of Management Games and Tycoon Games. You're not just a pilot – you're also a business tycoon in charge of upgrading your airport, purchasing new airplanes, and expanding your little airline's reach to far-flung destinations.
Further enhancing its charm is its beautiful 3D world that takes you on a virtual globetrotting trip across exotic islands with unique themes. The parking isn't as simple as it looks, making it an interesting entry in parking games. Top it all off with a fantastic soundtrack by composer Mikkel Gemzøe and you have a game that's as pleasing to listen to as it is to navigate.
In conclusion, Fly THIS! is more than just another addition to your collection of airplane games. It's an adventurous ride that combines fast-paced action, strategic planning, engaging visuals, and compelling audio into one flight path leading straight to endless fun.
What are the best online games?