Five Nations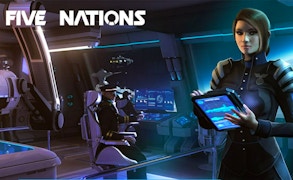 Five Nations
Step into one of the most exhilarating battle games of the year, Five Nations. This is no ordinary addition to the canon of war games. Perfectly blending elements from the realms of flying games and management games, Five Nations is a fierce real-time, sci-fi strategy game designed for both PC platforms and browsers.
The game offers a unique blend of high-energy tactical combat in space juxtaposed with intricate micromanagement of economy, construction, and production. In essence, it's like controlling a finely tuned spaceship while simultaneously balancing multiple plates on sticks, keeping your eyes peeled for any sign of imbalance.
The RTS mechanics in Five Nations are handcrafted to deliver an action-packed gameplay experience. From the moment you're ushered into this expansive universe teeming with celestial bodies and complex creatures, every second counts. Blink and you might miss an opportunity for strategic advancement. This is a game that keeps you on your toes at all times.
It's not all about solo play though. Five Nations shines just as brightly in multiplayer mode, bringing gamers together in a common quest for interstellar domination. So whether you prefer flying solo or joining forces with friends, this game provides ample room for both.
In conclusion, if your gaming taste buds crave a mix of strategy, combat, flight, and management against an atmospheric backdrop of glistening stars and distant planets - then Five Nations is what you've been searching for. It's more than just an addition to your arsenal of battle games – it's an astounding fusion of war tactics with real-time decision making that will keep you riveted till the very end.
What are the best online games?