Fat Shark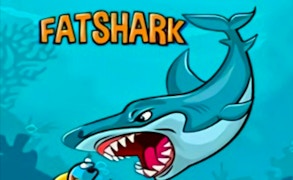 Fat Shark
Dive into the immersive world of Fat Shark, an underwater odyssey that sets its place among the finest sharks games and fishing games on the HTML5 platform. The game's plot is simple, yet compelling; you're a famished shark, eyes hungry for the thrills of aquatic feasting!
Featuring an exciting premise with unique mechanics, Fat Shark is also a standout in the survival games category. The key dilemma of this game is maintaining balance - eat to survive, but eat too much and risk becoming fat and slow, unable to avoid impending doom in form of bombs!
The gameplay is energizing throughout- every underwater feast your shark indulges in, will lead him to grow extraordinarily fat. And while being big comes with its own perks (nom on bigger fish, anyone?), it also brings out one massive weakness - inability to evade deadly bombs lurking around. Here lies the adrenaline-filled survival aspect of this game and I daresay, it definitely keeps you hooked on.
That's not all though! Fat Shark offers various bonuses to keep things interesting - collect starfishes and hourglasses to gain extra points or devour some special underwater treats to shrink back into your original agile self! These additional elements bring another layer of complexity to this riveting fishing game.
In conclusion, Fat Shark exemplifies innovative gameplay mechanics within a traditional survival format. While it stands as a testament to engaging shark games, its unique spin on survival challenges offers players an addictive gaming experience. So swim into the perilous waters and hon your hunting prowess now!
What are the best online games?