Extreme Pixel Gun Apocalypse 3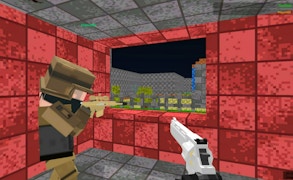 Extreme Pixel Gun Apocalypse 3
Immerse yourself fully into the blocky, sharp-shooting world of Extreme Pixel Gun Apocalypse 3, the latest iteration in the popular online fps pixel games series teeming with thrilling action and strategy. This game is nothing short of an adrenaline-pumping experience that marries together the nostalgia of pixel games with the pulse-racing action of gun games.
As soon as you step into the vibrant world of Extreme Pixel Gun Apocalypse 3, you'll be compelled by its charm. Its marriage of pixel art aesthetics with fluid FPS mechanics might have you itching to draw your weapon and dive into a battle as you maneuver your pixelated character around eye-catching 3D spaces. With a variety of maps and battlefields to explore, the game always feels fresh and exciting.
The selection and variety within the game's arsenal are commendable for any serious gun games fanatic. From rapid-fire machine guns to precise sniper weapons, there is a tool for every tactic and style. Whether you prefer a stealthy approach or an all-guns-blazing attack, your success relies on mastering your preferred weapon's coquettish moves.
As for its sense of competition, Extreme Pixel Gun Apocalypse 3 doesn't fail to deliver. This isn't only about who has the fastest trigger finger but also about survival games' thrill. The PvP mode will pit you against other players in epic battles that will test your mettle at every turn. Only the best will survive this pixel apocalypse.
For lovers of sniper games, there's plenty to enjoy here too. The sniper mode adds a layer of tension as every decision can mean life or death, while providing playstyle diversity within this battle game's captivating world.
In conclusion, Extreme Pixel Gun Apocalypse 3 is more than just another title in the sea of pixel games—it's a well-crafted tapestry made up of some of the best elements from gun games, survival games, battle games, and sniper games all rolled into one exhilarating package!
What are the best online games?