Evil Santa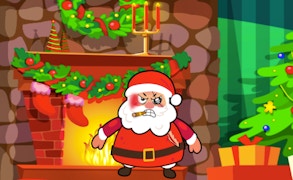 Evil Santa
Immerse yourself this holiday season in the unconventional world of Evil Santa, a distinctive blend of Christmas games and tap games that's guaranteed to keep you on your toes. As one of the most delightful clicker games, Evil Santa pushes the boundaries of creativity, bending the traditional narrative of Santa Claus into an action-packed, adrenaline-spiking saga.
In the exciting universe of Evil Santa, you are given absolute freedom to showcase your might against the infamous Santa Claus. This is no ordinary idle game, it's a visceral exploration into an electrifying wonderland. The gameplay pivots around launching a barrage of attacks on the not-so-jolly Saint Nick using a variety of weapons and special abilities. Every attack you unleash extends further than just a simple tap; it symbolizes your resistance against his reign.
The essence of Evil Santa is its undeterred commitment to thrill. As a sandbox ragdoll game, it takes liberally from its predecessors while introducing novel features that enrich your gaming experience. The option to spawn weapons grants an innovative edge over other Christmas games — ensuring endless fun for gaming enthusiasts.
Evil Santa boasts a captivating plotline steeped in suspense and unexpected twists — enough to rival some of the best action games out there. It encourages strategic thinking and quick reactions; traits that are often nurtured in traditional clicker games but amplified here with elements of surprise and thrill.
To summarise, Evil Santa redefines what we usually expect from Christmas games- it's intriguing, fun-filled, and mind-bogglingly addictive! With its exciting blend of tap and idle elements, this game offers an endless stream of entertainment for gamers seeking something out-of-the-box this holiday season.
What are the best online games?