Endless Siege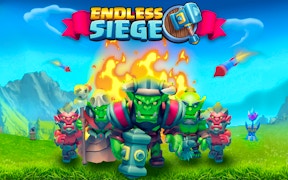 Endless Siege
Immerse yourself in the world of Endless Siege, a riveting concoction of battle games, monster games, management games and archery games. This intriguing game takes you on a roller coaster ride of strategy, skill and suspense.
One of the major highlights that sets Endless Siege apart from other strategy games is the new map everyday. This unique feature ensures that every day brings forth a whole new battleground, making repetitiveness a word non-existent in the game's vocabulary. It's an ever-evolving challenge that not only tests your wit but also pushes your flexibility to adapt to new scenarios and strategies.
The game's primary objective revolves around defending your kingdom from waves of invaders. The battlefield is filled with various enemy archetypes, transforming it into one of those enthralling monster games where survival becomes paramount. Being one of those management games, you're responsible for placing your defenses strategically along the path and purchasing vital upgrades to enhance your survival odds.
The game draws you in with its inviting mechanics, one being its scoring system. The longer you withstand the onslaught, the higher your end score will be - pushing players to persevere through each wave. The element of competitiveness is further fuelled by its daily map feature - encouraging gamers to check back every day for a brand-new challenge.
In conclusion, Endless Siege weaves together elements from different gaming genres- battle, monster, management and archery games- into a seamless ensemble that is bound to keep gamers hooked for hours on end. Its constant evolution proffers an unpredictable and exhilarating gaming experience every day.
Endless Siege, an incredible fusion of genres offers both thrill and engagement - indeed a masterpiece among strategy games!
What are the best online games?