Elite SWAT Commander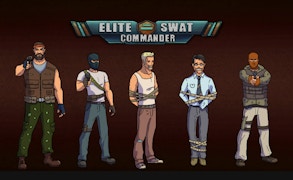 Elite SWAT Commander
Delve into the adrenaline pumping realm of gun games with 'Elite SWAT Commander'; a standout title that is as enthralling as it is explosive. Striding boldly into the arena of sniper games and police games, this centerpiece is a beacon of brilliant game design and captivating narratives.
You're not just any SWAT member; you're the last line of defense, undertaking a mission that teeters on the brink of impossibility. This gritty, high-stakes scenario draws you in instantly, immersing you in a world where every decision could mean life or death for the hostages helplessly trapped within a fortified warehouse. The gripping narrative is bolstered by an interactive tutorial that ensures you're well prepared for what's about to unfold.
Your trusty tool? A top-tier counter terrorist pistol gun, a component essential in your pursuit against an array of ruthless enemies. This attribute alone cements the game as a noteworthy contender among other gun games.
The settings do not disappoint either. The varied locations crank up the intensity and demand from gamers to adapt rapidly. Here, Elite SWAT Commander proves its worth among other dynamic sniper games. Gunfights never felt so real and immediate. This game tests your reflexes at every turn, making it an engaging addition to your roster of regular police games.
This first-person shooter offers fast action sequences sculpted with such finesse; fans of Counter Strike will feel right at home. With its meticulously crafted mechanics and high-speed gameplay, Elite SWAT Commander shines as one of the top-tier shooting games, deserving of all its acclaim and more.
The exhilarating journey Elite SWAT Commander takes its players on easily warrants repeated play-throughs, making it an exceptional choice for any avid fan of gun games, sniper games or police games alike.
What are the best online games?