Element Evolution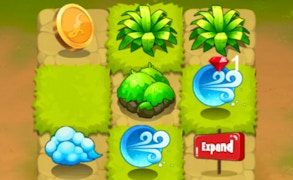 Element Evolution
Prepare to lose yourself in a lush green world of agricultural wonder with Element Evolution, an engaging hybrid of action, clicker games, and idle games. With its unique blend of gameplay mechanics, this vibrant tap game effortlessly transcends the typical farm simulation genre, providing a lush escape for the casual and committed gamer alike.
As an action game, Element Evolution challenges your strategy and timing skills as you carefully plant a variety of crops to maximize your output. The goal is simple - plant, harvest, accumulate resources. However, mastering the game's intricate mechanics with its rewarding upgrading system is where its magic truly lies.
This is not your average idle game where you mindlessly tap and wait. Here each click holds power; each decision impacts your virtual realm. Planting different crops successfully unlocks new varieties, opening up a cornucopia of possibilities that keep you engaged for hours. The more successful your harvests are in this enchanting world of Element Evolution, the more money you gain to unlock expansive lands!
Farm games have been around for a while but Element Evolution raises the bar high by offering exciting gameplay mechanics that require strategy and skill in addition to mere patience. This delightful tap game offers more than just repetitive clicking - it presents a thriving garden that grows and blossoms under your guidance.
In essence, Element Evolution promises a thrilling mix of fast-click action and strategic farming that keeps you engaged all day long. If you have been searching for a farm simulation or idle games with more depth, or simply crave an enticing new action adventure - then take up your digital rake and let's sow some magic within this emerald haven!
Element Evolution, it's not just about harvesting crops; it's about nurturing a world.
What are the best online games?