Duck Hunter Game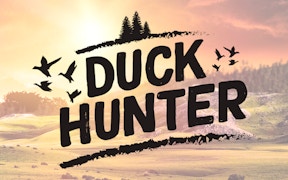 Duck Hunter Game
Step into the thrilling world of Duck Hunter Game, an elite shooting experience that catapults you into high-octane escapade. This is not just another addition to the ocean of hunting games but a standout clicker game that adds a new dimension to the genre with its unique features and riveting gameplay.
Imagine being in the tranquil countryside with a shotgun in your hand, eyes scanning the horizon, waiting for a flurry of flapping wings. Then you spot it, a flight of ducks darting through the sky, seamlessly blending speed and direction. That's when you ready your gun, aim your shot, and pull the trigger.
The Duck Hunter Game delivers an almost tactile feel of hunting in the wild. The gameplay is challenging yet rewarding with ducks flying randomly at different speeds, testing your reflexes and accuracy to their limits. One standout feature is the cool reload mechanism - it's intuitive and doesn't interrupt the flow of the game. A realistic looking shotgun clinched in your hand enhances immersion, making this one of those gun games that stay etched in your memory for all good reasons.
Simple yet compelling gameplay ensures you are hooked from the first second while stats enable you to track and improve your hunting performance on-the-go. A 3D-like graphical interface adds more depth and realism, transcending the boundaries between virtuality and reality.
If archery or wildlife hunting games stir something in you, look no further than Duck Hunter Game. Whether you seek an adrenaline-fueled experience or a leisurely pastime, this dynamic shooter game is sure to satiate your gaming appetite. Hunt like never before!
What are the best online games?