Dream Chefs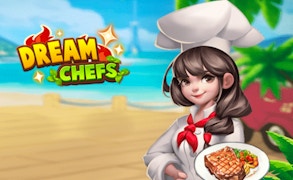 Dream Chefs
If you've ever yearned to put on a chef's hat and turn an empty space into a bustling hub of culinary delights, then Dream Chefs is just the foodie adventure you've been craving. This addictive hybrid of restaurant games, management games, and cooking games will see you fulfilling customer orders, creating tantalizing dishes and engaging in some serious gastronomy!
Dream Chefs isn't your standard cooking simulator, but a comprehensive dive into the world of food service, marrying the strategic thrill of building games with the fast-paced heat of kitchen warfare. You start with practically nothing - an empty room that screams potential and a handful of basic recipes. Your task? Transform this barren space into a thriving eatery.
The first taste of the game dives headfirst straight into the fire, dishing out generous servings of fast-paced cooking tasks that demand swift precision, exact timing, and quick decision-making skills. There's no room for half-baked efforts here - customers are demanding, recipes grow increasingly complex and time is always ticking.
However, Dream Chefs is not just about chopping onions and frying fish at lightning speed. Layered within its gameplay is a robust setup where players get to manage their own restaurant business. From customizing interiors and hiring staff to evolving menus based on customer preferences - there's more than meets the eye in this game.
In conclusion, if your eyes light up at the thought of culinary conquests or if you get a kick from strategically building your empire from scratch, then Dream Chefs should be your next gaming obsession. It feeds both your creative side with its restaurant-building aspects and challenges your multitasking prowess with its energized kitchen sequences. This sumptuous mix of restaurant games, management games, cooking games and building games promises an experience as rich as a well-cooked meal itself.
What are the best online games?