Draw Bullet Master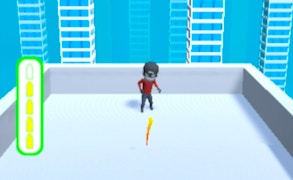 Draw Bullet Master
Immerse yourself in the tactical world of Draw Bullet Master, a standout among gun games that uniquely blends in elements from drawing games and sniper games. This game transports you into a high-stakes, adrenaline-pumping situation where only your sharp shooting and strategic skills can save the day.
Draw Bullet Master turns the tables on convention, making it more than just your typical shooting game. Become the SWAT team's unseen hero in this thrilling hostage rescue mission on a rooftop. Your task? Drawing safe bullet paths intended to eliminate all terrorists without endangering the hostages. The catch is: you must anticipate the gunners' reactions.
Bullet trajectory prediction becomes an art form here. It's a rare treat, blending the tension of sniper games with the creativity found in drawing games. And with 3D physics intricately woven into its design, this game offers an unforeseen depth of realism unparalleled in gun games.
You better make your first bullet count because if you don't, those gunners won't hesitate to shoot back! The pressure is palpable and only escalates as you advance through harder levels, which makes for a gripping gaming experience from start to finish.
In conclusion, Draw Bullet Master is not just for shooting enthusiasts but also for gamers who love to strategize and think outside of the box. It truly offers an experience likened to being caught right in the crosshair of excitement and tension. With its distinctive gameplay mechanics blending elements from sniper games, drawing games, and other popular gun games into one high-octane package – this title is truly a perfect shot!
What are the best online games?