Draw Attack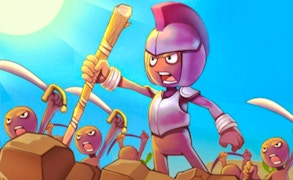 Draw Attack
Immerse yourself in the riveting world of Draw Attack, a unique concoction of battle games, drawing games, and survival games. This action-packed foray challenges you to scribble, draw, and strategize your way to victory, as you command an army of valiant soldiers to defend your homeland.
The core mechanics of Draw Attack revolve around the strategic deployment of your troops. By blending elements typical of battle games with drawing game dynamics, this title puts an innovative spin on traditional warfare. Flex your tactical muscles and use a smart war strategy, paired with a deft hand, to sketch out your units' movements and formations.
In keeping with the finest survival games' traditions, failure is not an option in Draw Attack. You'll need all your strategic wits about you to overcome fierce adversaries and complex combat scenarios. Whether it's cleverly planning your onslaught or adapting on the fly to changing battlefield conditions, every skirmish is a testament to your ability to survive against all odds.
Let the canvas of battle come alive as you draw, scribble or write your path to victory in Draw Attack. Embrace the captivating gameplay that seamlessly merges elements from battle games, drawing games and survival games into one exhilarating package. It's time for you to take up arms and fight for your country like never before!
Join the ranks today and experience the engaging fusion of genres that is Draw Attack. As far as action-packed battle drawing survival games go, this title sets a high bar for innovation, challenge, and sheer fun.
Draw Attack delivers an unforgettable gaming experience that demands strategy and creativity in equal measure. Prepare for war - grab your pens, gather your troops and get ready for an intense battle on the canvas!
What are the best online games?