Dragon World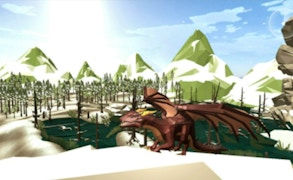 Dragon World
Welcome, gamers and dragon enthusiasts! Today, we're stepping into the fiery realm of Dragon World, a thrilling title in the genre of action games. This game is a must-try for fans of dragon games, flying games, skill games, and battle games.
Dragon World offers an incredible immersive experience as it enables you to transform into a dragon, an element many dragon games often lack. Here, you're not just fighting dragons; you're living as one. Feel your heart pound as you soar over towering mountains or swoop low over glittering streams.
The ability to take flight provides an exhilarating experience, making it one of the compelling flying games on the market today. The mechanics are fluid and intuitive; every glide, dive, and barrel roll feels organic and tactile under your claws. This isn't merely a game; it's a flight simulator with scale-tipped wings.
Skill Games lovers will find a rigorous challenge in Dragon World. Mastering the finesse of flying is just the tip of the iceberg. The real task lies in engaging with other dragons in epic battles or persuading them to join forces with you. Whether by force or diplomacy, your skills will be tested.
The fierce combat mechanics catapult Dragon World into the highest echelons of battle games. Each dragon fight is a high-stakes battle that will push your strategic thinking to its limits. Conquer or be conquered - that's the law of this ferocious land.
In conclusion, whether you are fanatical about majestic creatures like dragons or yearn for high-octane action battles—or simply love demonstrating your superior gaming skills—Dragon World is a game that deserves space on your hard drive.
What are the best online games?