Dragon City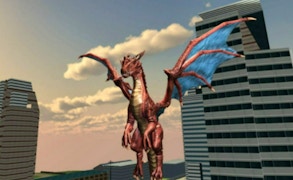 Dragon City
Delve into the heart-pounding world of Dragon City, an adrenaline-filled addition to the exhilarating genre of action games. This game is not just an amalgamation of battle games, dragon games, and flying games, but also an exciting platform to showcase your skills.
Dragon City is not your ordinary run-of-the-mill dragon game. Imagine a city simulation where you have the reins of a powerful dragon with multiple breathtaking dragon skins at your disposal. Envision soaring high above a city teeming with cars and soldiers, commanding the sky as you please. This is exactly what Dragon City offers its players.
The magnificence lies in the details and diverse gameplay. The beast you control isn't limited to just one attack method; surprise your enemies by alternating between fierce melee sweeps and devastating fireballs. Watch as the soldiers below struggle to stand their ground against your powerful fire breath. The simulation aspect of this game takes it beyond pure actions and introduces strategy into the mix. Pit yourself against other dragons or terrorize the city; Dragon City gives you full control.
Most appealing are Dragon City's controls which are smooth and responsive making it an excellent entry into skill games. The intricacy lies in mastering these controls to command your dragon effectively in battles or whilst flying through skyscrapers.
In conclusion, Dragon City is not only a revolutionary game within the realm of battle games and dragon games, but it also adds an exciting twist to flying games. Battle-hardened veterans will find new challenges within its complex mechanics and novices will be captivated by its intuitive gameplay making it perfect for all levels of gamers.
Remember, in Dragon City - You are not just playing a game, you are flying a dragon!
What are the best online games?