Dinosaurs Survival The End Of World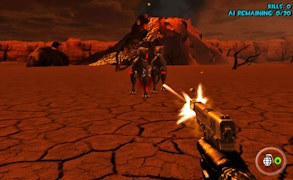 Dinosaurs Survival The End Of World
Immerse yourself in the primeval world of Dinosaurs Survival: The End Of World, a unique blend of gun games, battle games, and survival games. Engage in a gripping journey back to the era of titanic reptiles and volatile volcanoes, where your very survival hangs in the balance. This game offers a unique twist on traditional dinosaur games, encompassing elements of tension-filled war games, stealthy sniper games, and perilous hunting games.
This game thrusts you into the epicenter of chaos and destruction. The world teeters on the brink of ruin as an impending volcanic eruption threatens all life forms. Your mission? Survive against all odds. Arm yourself with a range of weapons to defend against colossal dinosaur hordes - each species boasting its unique set of threats.
You're not alone in this deadly dance between man and beast. Rally with your friends and survive waves of dinosaur onslaughts together or delve into a compelling campaign filled with varying gameplay modes for an added layer of challenge. The game's dynamic AI adjusts to your play style, ensuring no two gaming sessions feels alike.
The heart-pounding tension never relents - whether you are picking off adversaries from a distance as a sniper or caught up close in the frantic chaos of skirmishes. With precise gunplay mechanics, every shot counts - making it more immersive than most generic gun games or sniper games out there.
Bottom line? This isn't just another addition to the plethora of dinosaur games crowding the market; it's an exhilarating dive into survival gaming that leaves you on edge from start to end.
What are the best online games?